A recruiter is one who meets the demands of the Employer and Employee. An executive recruiter is responsible for helping companies find great candidates for specific openings and pursuing the entire recruitment process.
I remember the poem "The Brook" written by Alfred, Lord Tennyson. Verses 21- 24 say
"I chatter, chatter, as I flow
To join the brimming river,
For men may come and men may go,
But I go on forever"
It is apt when I think of a recruiter. Yes, indeed recruiters are a true depiction of a stream. They strive hard to achieve their Goal. They meet many employers and employees. Many employees may come and go but the Recruiter goes on forever working hard.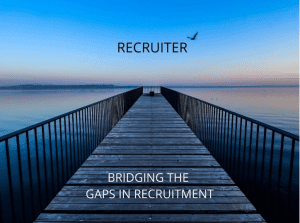 Some key responsibilities of the recruiter include:
⦁ One point of contact for Hiring Managers to get the sourcing requirements.
⦁ Pre-screening, and presenting qualified job candidates to the hiring manager
⦁ The main point of contact between the employer and the employee throughout the hiring process
⦁ Responsible for conducting reference and background checks
⦁ Manages the job offers, recruitment, and onboarding process
However, the decision to recruit is based on the Hiring team. The recruiter's job is much wider than just bridging the gap between an employee and the HR manager. The Recruiter is responsible for screening and performing a thorough check on background, qualification, experience, certifications, skills like organizational, presentational, personal etc, and ensures that the right person fits in the right job position. The recruiter also extends his support furthermore to both the employee and employer throughout the entire process ensuring a smooth onboarding.
Small to large IT companies need recruiters to hire professionals. Whether it is a permanent IT position or a contractual job it needs a recruiter to source the right candidate. The need for software professionals has an increasing demand and with the advent of newer technologies, it is essential that the recruiters not only have a high demand list but also need to be abreast of the new technology. It is an exciting career for those who love to communicate and inspire the right people for the right job.
We at ADI have over 15 years of experience with 1000+ passionate professionals working in Thailand, Indonesia, Philippines, Vietnam, India, Singapore, and Malaysia. ADI has been successfully serving our clients with services – IT staff outsourcing, recruitment, software consulting, payroll, visa, and work permit.
Visit us to learn more about our services at www.adiresourcing.com
ADI Resourcing Co., Ltd
120 Kasemkij Building, Room No. 907, 9th Floor,
Silom Road, Suriyawongse, Bangrak, Bangkok, Thailand – 10500
⦁ mkt@adiresourcing.com
⦁ +66 2632 9388
⦁ +66 63 330 8911
THAILAND | INDONESIA | PHILIPPINES | VIETNAM | INDIA | SINGAPORE | MALAYSIA