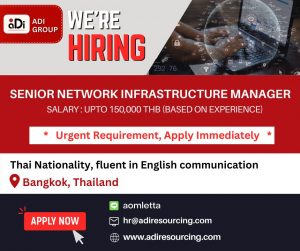 Great Job Opportunity for Thai Nationalities
Super Urgent!!  Apply Now !
ADI Group looking for candidates to apply for the position of  Senior Network Infrastructure Manager
Position: Senior Network Infrastructure Manager (Thai nationality, Fluent in English communication) –
Salary : 80,000 – 150,000 THB (Negotiable depending on experience)
Contact : Khun Aoml (Line ID: aomletta, Email : hr@adiresourcing.com)
Qualifications:
• Bachelor Degree in Computer Science preferred or equivalent relevant work experience and/or hardware/software certification(s).
• Over 10 years of experience and related responsibility.
• Management of all MCCA networks including the Show Network, Internal Network, and Media Network.
• Develop and maintain 2 to 3 year strategic infrastructure plan including a long-term vision, technology roadmaps, goals and objectives.
• Develop and maintain day-to-day operational plan including firmware/software version control, power cycling, configuration backup, data backup, disaster recovery testing, outage management, escalation procedures and SLA's
• Oversee inventory control database records for receiving, location and component tracking, asset status, reallocation, and disposing of the organization's hardware and software
• Manage database records for information regarding licenses, registrations,
warranties, and service agreements for the organization's hardware and software
• Manage procurement and acquisition including specifications and negotiation with vendors, outsources, and contractors to secure software, services, and hardware.
• Develop and oversee change management and quality assurance processes including review and approval of engineering design proposals, implementation plans, and acceptance plans.
• Oversee all projects and monitor the screening, scoping, scheduling, budget, deliverables, communication, and documentation
• Manage the day-to-day workload and priorities of existing and new tasks, requests, and projects against available resources and expected service level agreements
• Develop wireless performance data, metrics, algorithms, and reports to measure and track client, exhibitor, attendee, and staff wireless experiences against service standards.
• Continuously assess, test, improve and document 24×7 monitoring infrastructure including alarming, logs, and event management.
• Develop MCCA Security Policy and maintain ongoing assessment of security environment and recommend solutions for safeguarding the internal and external networks
• Work very closely with Network Services, Technical Service Delivery, Telecommunications, IT Support Services, Project Management Office, Public Safety, A/V, and Business Systems.
• Experiences/skills on cloud servers, network, Infrastructure, office 365
• Experiences in vendor management and coordination
• Team work, Responsible and excellent in English communication*** (Must have skills)
Start work : ASAP or 1 month notice
Budget : Open (Around 50 K – 100 K negotiable depending on experience and profile)
Type : Permanent
Check it out, and contact our consultants to get more information:
Line – aomletta
Email – hr@adiresourcing.com