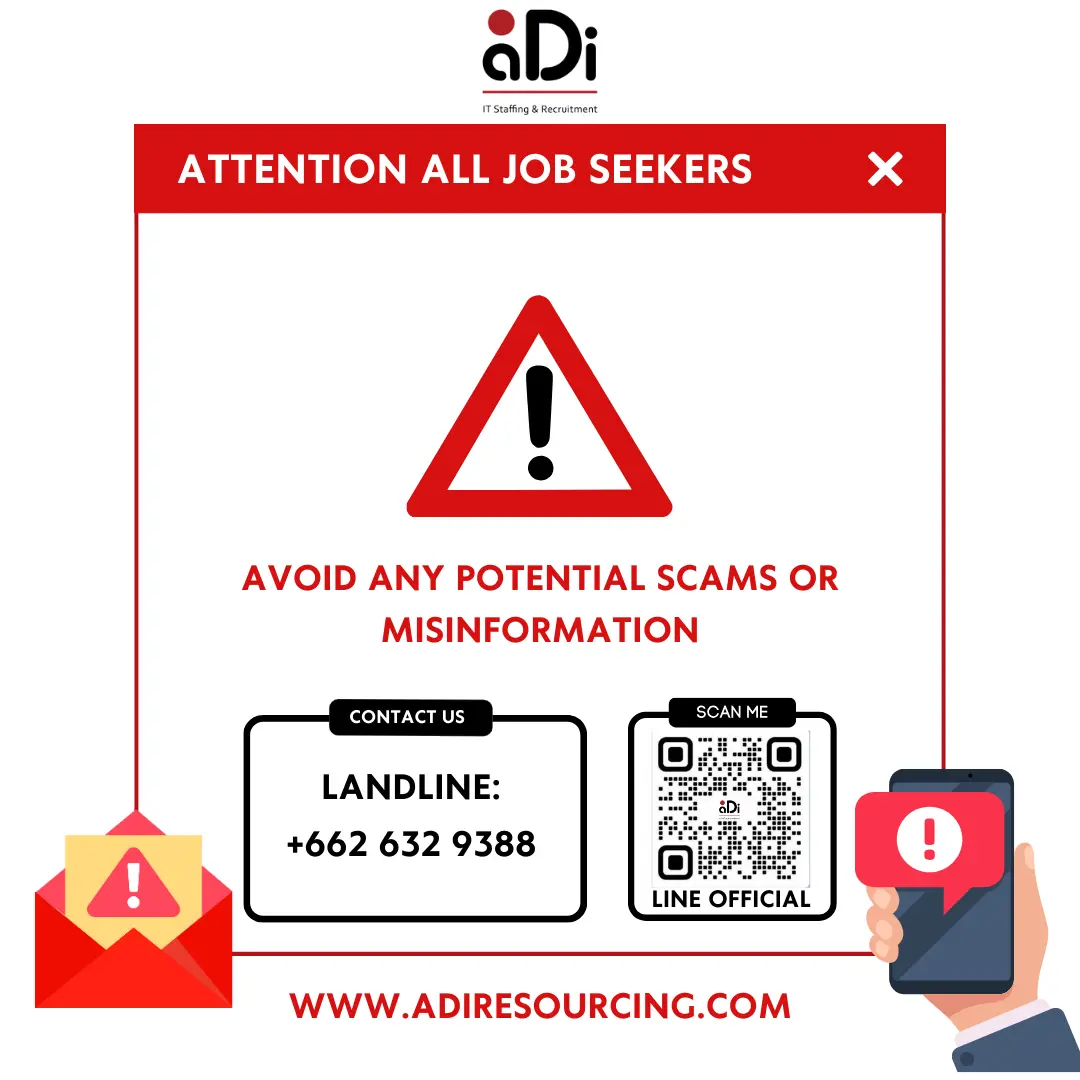 It has come to our attention that unauthorized individuals have been using our company logo and name for recruitment purposes. We take this matter very seriously and want to ensure your safety during your job search.
Here are some best practices to safeguard yourself:
1. Beware of Suspicious Communications: Be vigilant for any emails or messages requesting sensitive information. Authentic ADI staff do not use personal email addresses. They communicate through official domains, such as:
• Thailand: @adiresourcing.com / @adirecruitment.com
• Indonesia: @adiconsulting.co
• Vietnam: @adiconsulting.vn
• India: @adiconsulting.co.in
• Philippines: @adirecruitment.com
• Malaysia: @adirecruitment.com
• Singapore: @adiresourcing.com / @adirecruitment.com
2. No Charge for Job Applications: ADI does not charge from consultants for job applications. Please do not make any deposits or money transfers to bank account. Paying for a job is not a practice endorsed by ADI; we do not require payments for job applications or job guarantees.
3. Protect Your Information: ADI never requests sensitive information like bank account details. Before sharing any information, conduct thorough research on both the company and the recruiter. Legitimate ADI employers typically maintain an online presence, and our official website URL is https://www.adiresourcing.com/.
To help you stay protected from possible scams or misinformation, please keep in mind:
1️ Always verify the authenticity of any recruitment opportunity with us by contacting +662 632 9388 or emailing us at hrlead@adiresourcing.com.
2️ Utilize the provided QR code to access our official communication channel for verification.
Your safety is our top priority, and if you ever have doubts or concerns, do not hesitate to reach out to us directly through our official channel at https://www.adiresourcing.com/contact-us/.
We sincerely thank you for your vigilance, and we value your continued trust in us. Together, we are committed to creating a safe and transparent job-seeking experience for everyone.
#JobSeekersAwareness #ProtectYourself #VerifyBeforeApplying